The 5th World Cup Register System Has Began
General Information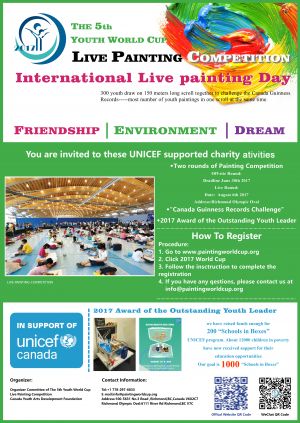 Event Agenda
Off-site Contest
NEWLY EXTENDED DEADLINE June, 30th, 2017 
The Preliminary Contest, all contestants are welcome to donate $1 for the UNICEF 

All participants will be grouped according to age. 
Preschool Group 1 (Age 4-6)
Children Group 2 (Age7-12)
Juvenile Group 3 (Age 13-17)
Youth Group 4 (Age18-25)
Requirements for Entries


Theme
Friendship, Dream, or Environment Protection
Tools & Genre
Pen, pencil, oil, propylene, water-color, any painting tools and materials are welcome.
Genres are not limited: Realistic, abstract and manga are all fine.
Format
All paper entries should be A3(43cm×28cm), Tabloid(42cm×29cm), or close to these sizes.
All electronic submission should be 1920*1080, resolution rate should be over 150 dpi.
The entries should be original and not used in any former painting contest 

Only original entries are accepted and no entries will be returned.
All submissions of artworks should contain these info: Contestant's ID photo, name, gender, age, date of birth(year/month/date), school, contact telephone, email and contest region. If the contestant created the entry under the guidance of teacher, the teacher's name, institution, contact phone number, a written essay (approx 200 words of creation explanation) should also be included.


Live Contest

Opening Ceremony: August 11th, 2016 (14:00 - 18:00)
Closing & Awarding Ceremony: August 16th, 2016 (18:00 - 20:00)
All ages groups except for the age 4-6 who will not participate in the final due to venue restrictions
Important Notices
The Live Contest charge each contestant CAN$20. Delivery methods:
        1) You can pay online;
2) Paying at the office of the Organizing Commitee, 
100- 5631 No 3 Road, Richmond, BC, V6X 2C7, Canada
3) Mail your check to the Organizing Committee:
Room

100- 5631 No 3 Road, Richmond, BC, V6X 2C7, Canada
         (TO: Organizing Committee of the 5th Youth World Cup Live Painting Competition)
         (Recipient: Canada Youth Arts Development Foundation) 
        4) Pay at the entrance of the competition on August 6.