The 4th World Cup has been successfully accomplished!
We have passed the cheque with over 20,000 CAD to UNICEF at the Closing and Awarding Ceremony on Aug 16, 2016. The raised donation will build more than 100 school-in-a-box for children living in poverty and provide education opportunity for more than 4000 children and youth around the world. 
Since 2012, our event has raised more than 80,000 CAD for helpless children, and has helped approximately 16,000 children to retrieve opportunities of education!
The 5th Youth World Cup Live Painting Competition 2017 will be launched soon!!
DOWNLOAD THE REGISTRATION FROM


Prime Minister's Greeting Letter for the 4th Youth World Cup Live Painting Competition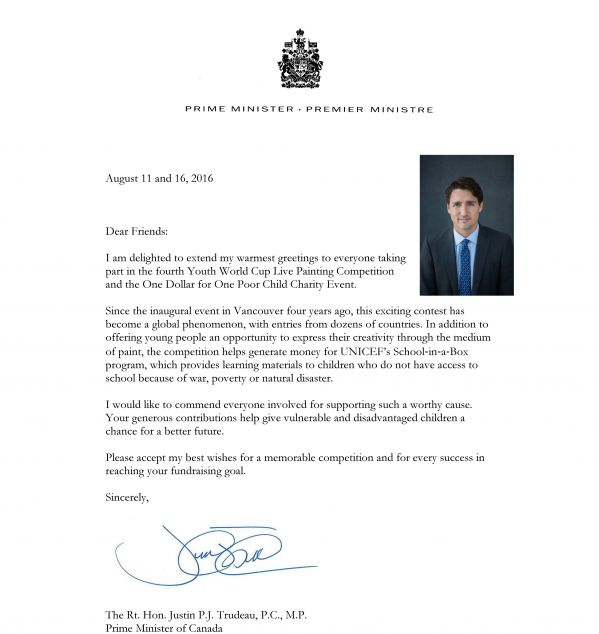 Click here to view more Greeting Letters 
Please welcome our
Honorary Chair of the Committee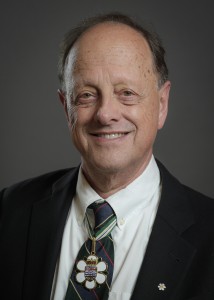 We are very honored that Dr. Ron Burnett, one of the world's most distinguished academics in the areas of media, arts and communications, is the Honorary Chair of the 4th annual Youth World Cup Live Painting Competition. 
Dr. Ron Bunett has served as president of the Emily Carr University of Art and Design since 1996. Recognized as one of the top art and design institutions in the world, he has raised the profile of the university and brought attention to the importance of the Arts to people's well-being. Ron has also written three books, most recently, How Images Think.
He also had significant roles at Vanier College and McGill University in Montreal, York University in Toronto, LaTrobe University in Australia, University of Otago in New Zealand, and Ben Gurion University in Israel. Known for his work in media and distance education, Ron served on an "eminent persons panel" at UNESCO to provide advice on Internet resources in developing countries.
Dr. Ron Burnett was inducted to the Royal Academy of Art, has received the Queen Elizabeth II Golden Jubilee and Diamond Jubilee medals and is a Member of the Order of Canada. In 2010, he was invested into France's prestigious Ordre des Arts and des Lettres for his work to strengthen the cultural relationship between Canada and France.
To see his Greeting Letter.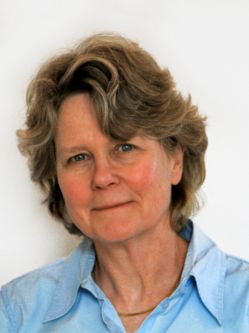 Barbara Zeigler, Artist, Professor of Art History, Visual Art and Theory of UBC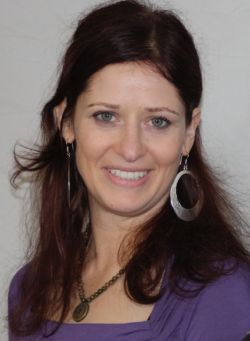 Deb Chaney, Contemporary Abstract Artist, Author, Speaker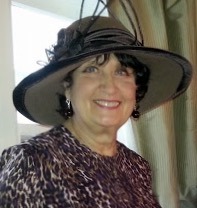 Donna Webber, Painter, Art Educator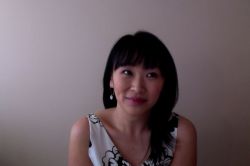 Bernice Gan, Education Coordinator, Visual Arts Teacher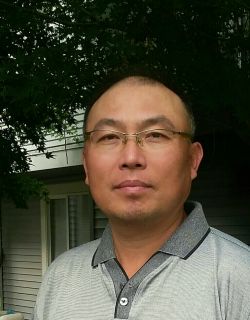 Lee Jong Jin, Sculptor, President of Korean Artists' Association in Vancouver
The Youth World Cup Live Painting Competition & "School-in-a-Box" charity event has been officially acknowledged as an important partner with UNICEF Canada.
Organizers
Organizing committee of the 4th Youth World Cup Live Painting Competition
PR Consulting (Canada) Inc. 
Canada Youth Arts Development Foundation
Competition Rules and Regulations
To the candidates who helped to promote the core value of art exchange and share the culture's diversity globally.  We are very pleased to introduce those candidates to the
"2016 Award of the Outstanding Youth Leader "and
"The Most Outstanding Contribution Award."
July 31th, 2016 is the contest preliminaries deadline of the 4th Youth World Cup Live Painting Competition. During August 15th to 18th, the world final of the painting contest and awards ceremony will be held in the River Rock Theater. Meanwhile, an UNICEF ambassador and dignitaries from around the world will be there to promote the development of the world youth art, help the world's children in poverty who have made outstanding contributions to youth, and to award the "2016 Outstanding Youth Leader award" and " the Most Outstanding Contribution Award". 
For More Details, Read "The Introduction of Competition Rules and Regulation"